Garmin, known for GPS navigation products, recently launched the Vívomove Trend hybrid smartwatch. It combines style and essential smart features for a complete health and fitness monitoring solution. This smartwatch combines traditional watch design with modern-day smart features that are essential for today's connected individuals. The new device helps you stay connected and keep track of your health and fitness, all while looking stylish.
A SLEEK LOOK FOR YOUR WRIST
The Vívomove Trend boasts a traditional analog design, featuring genuine ticking watch hands and a concealed full-dial display.. The touchscreen is user-friendly and provides easy access to notifications, health stats, and other important information.
This smartwatch comes in several fashionable color options including Slate/Black, Silver/Mist Gray, Cream Gold/French Gray, and Peach Gold/Ivory. It features a comfortable silicone band, a stylish stainless-steel bezel, and a domed glass for added protection.
Customers can also personalize their watch by mixing and matching the bands and bezels.
The Vivomove Trend main Features
With the Vívomove Trend, individuals can stay connected even when on the move. This smartwatch lets you receive texts, social media updates, emails, and more directly on your wrist. It works by being paired with an Android or Apple smartphone..
Additionally, Individuals can use the Garmin Pay contactless payment solution to make quick purchases directly from their wrist. This is possible through participating banks. Safety features and live tracking provide peace of mind. Option to send message with location to contacts or automatically during outdoor activities. The Garmin Connect smartphone app lets individuals keep track of their health and fitness data. They can also compete with friends, join challenges, and more, all without a subscription.
The Vívomove Trend provides a range of premium health monitoring features. These features include wrist-based heart rate monitoring, pulse ox monitoring, sleep monitoring, and a sleep score. Additionally, the device offers Body Battery energy monitoring, stress tracking, and women's health tracking. The integrated breathwork activity tracks respiration, average heart rate, and stress level changes to promote mindful breathing.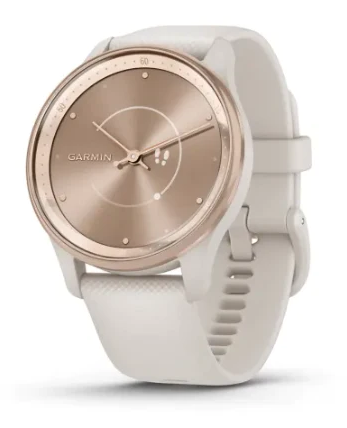 For individuals who love to stay active, the Vívomove Trend offers popular fitness features, including activity profiles for running, yoga, cardio, strength, and more.The device connects to a smartphone's GPS for accurate tracking during outdoor activities such as bike rides, walks, and runs. It measures pace, distance, and speed.
The smartwatch allows users to monitor their activity 24/7 by offering floor climbing tracking, calorie burning measurement, step counting, and intensity minute tracking.It helps users keep track of their fitness goals.
The Vívomove Trend has the fitness age feature from Garmin. It estimates if the user's body is younger or older than their actual age based on several factors. These factors are chronological age, weekly vigorous activity, resting heart rate, and BMI or body fat percentage. The device also offers tips to lower the user's fitness age.
LONG BATTERY LIFE
Enjoy extended mobility with a battery that lasts up to 5 days in smartwatch mode. An additional day as an analog watch. Fifteen minutes of charging gives you an additional day of battery life in smartwatch mode. Conveniently charge wirelessly using most Qi-certified charging pads (not included).
The Vívomove Trend is available now, starting with a suggested retail price at $269.99. With its stylish design, the Vívomove Trend is a great accessory for individuals looking to stay connected. It also provides essential features for monitoring health and fitness data.